Getting Involved
We value alumni involvement.
2015 Alumni Council
Nominations
Those elected would "take office" for a three year term and are expected to attend three, all-day meetings in Boston each year and a willingness to listen to HMS alumni and bring their and your interests and concerns to the Alumni Council. If you would like to recommend an HMS alumna or alumnus (including yourself), please send your nomination via email to hmsalum@hms.harvard.edu.
I Am
Harvard Medicine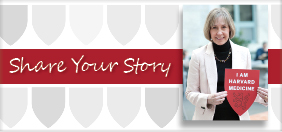 Whatever you are doing and wherever you are working around the globe, YOU are Harvard Medicine.
Whether you are a student, alumnus/a, volunteer, donor, staff member, or faculty member—on the Quad or at one of our 16 affiliated hospitals and research institutions—you represent the breadth and depth of the HMS community.  Share your story »