Established in 1891, the HMAA is comprised of more than 9,600 living graduates of the School. The Association's mission is to promote and support activities that connect alumni to each other, connect alumni to the School, and connect students and alumni.
---
NEWS FOR ALUMNI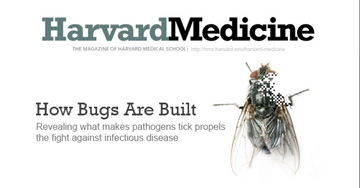 NEW ISSUE: How Bugs Are Built
Summer 2013, Volume 86, Number 2
The new issue of Harvard Medicine magazine — revealing how what makes pathogens tick propels the fight against infectious disease — is now available online. Click here for features and web exclusive videos.