Teaching and Learning
Essential to innovation in medical education at HMS is the process of evaluation—of what we do, how we do it and how best to make improvements. Anticipating a site visit last spring from the School's accrediting body, the Liaison Committee on Medical Education (LCME), Dean for Medical Education Jules Dienstag, the Carl W. Walter Professor of Medicine, and other leaders in the Program in Medical Education (PME) led a comprehensive self-study involving broad participation by faculty, staff and students from the HMS Quad and our clinical affiliates. In November 2011, the LCME reaccredited the School, citing as particular strengths medical education reform and the Principal Clinical Experience, support for the faculty's role in teaching, and the Dean's strategic planning process. The entire HMS community shares credit for programmatic changes and innovations launched in the two-year period that culminated in this impressive outcome.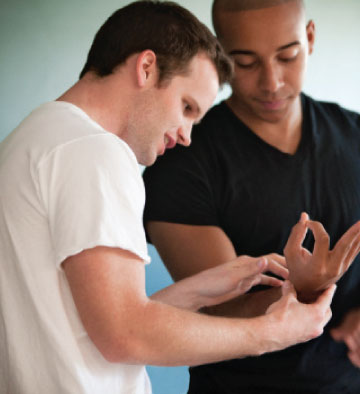 One result of the School's continuous self-evaluation was the decision to begin building high-tech classrooms this summer, a recommendation of the Task Force on Classroom Learning. In 2010, the PME also established a Course and Clerkship Review and Evaluation Committee, composed of faculty members from wide-ranging disciplines who are reviewing the medical education curriculum from stem to stern.
Evaluation also is at the heart of two studies initiated by the HMS Center for Evaluation, directed by Edward Krupat, the principal investigator of both studies. The first, funded in 2011 by a grant from the National Institutes of Health (NIH), will illuminate factors associated with HMS students' decisions to pursue careers in research, in particular those of underrepresented minority students. A second study aims to identify factors most closely associated with success and difficulties in medical school, with the aim of identifying markers of potential problems and addressing them proactively.
Every HMS Student a Scholar
In the belief that today's students must not only master knowledge but also learn to create it, HMS in 2011 launched the Scholars in Medicine Program, beginning with the incoming class of 2015. This curricular addition, directed by Gordon Strewler, professor of medicine at Beth Israel Deaconess Medical Center and master of the Cannon Society, aims to spark curiosity and a love of discovery. Students will undertake projects that run the gamut of inquiry, from molecular biology to health care policy and the history of medicine. In year four, each will work with a senior faculty mentor and execute a written scholarly project. To date, 550 faculty have volunteered projects, and more than 70 faculty will serve as advisors, helping students identify and advance their projects to completion.
Center for Primary Care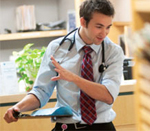 Addressing the need to train high-caliber primary care physicians who will help lead the shaping of policies that will reform U.S. health care, within its first year the Center for Primary Care has begun attracting national attention and participation. The Center is ably led by three HMS faculty members serving as interim co-directors: Andrew Ellner and David Bates, of Brigham and Women's Hospital, and Russell Phillips, of Beth Israel Deaconess Medical Center. This fall, an Innovation Fellows Program began supporting primary care faculty as they devote a year to research on care delivery, creating a community of clinician innovators, mentoring students and promoting cross-disciplinary collaborations.
Teaching Clinical Skills: Seeking a Better Way
At HMS, students are introduced to patients in week one, then build clinical skills over four years. Mentoring is key to this process, and a new Task Force on Teaching Clinical Skills is working to ensure top-flight teaching at every level with the involvement of clinical faculty at the School's affiliated hospitals and clinics. In year three, known as the Principal Clinical Experience (PCE), students train at a single hospital or health system, forging close ties with faculty, staff and patients. When the PCE was instituted in 2008, HMS launched quarterly Intersessions, bringing students engaged in the 12-month PCE back to the Quad to discuss health policy, delivery systems and medical ethics. These sessions provide resources for a faculty leader to oversee professional development across the four-year curriculum, beginning with the first course of medical school, "Introduction to the Profession," and culminating in a new capstone course under development for graduating students and designed to facilitate their transition to postgraduate training.
Financial Aid Opens Doors
Many of our students, all of whom gain need-blind admission based on academic merit, require scholarships and loans to attend HMS. In academic year 2011-2012, about 84 percent will receive more than $31 million in such funding from institutional, federal and private sources; nearly $15 million of this support represents institutional scholarships bestowed by the School. HMS ranks among the top five U.S. medical schools for these awards. To lower the burden of debt that can steer students away from highly rewarding but less lucrative specialties, the School awarded $1.65 million through its loan-forgiveness programs to 2011 graduates, chiefly those pursuing careers in public service or, new this year, global health.
HMS Academy Hones Faculty Teaching Skills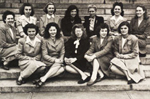 To help equip faculty with skills that bring out the best in medical students, the HMS Academy rolled out an array of new workshops and symposia this year. More than 540 faculty attended one or more sessions focused on teaching communication skills, evaluating learners' clinical competencies, and understanding the neurobiology of stress and its impact on learning. The Academy also sponsored sessions concerning research on education and expanded the Harvard Inter-Hospital Education Collaborative, in which faculty from HMS-affiliated hospitals present their work in progress.
Spotlight on Graduate Education
Boot Camp for Graduate Students. To prepare incoming students to analyze experimental data, HMS in 2011 piloted a "Quantitative Science Boot Camp." This four-day course covered quantitative tools used to answer research questions. The course complements the "Experimental Design Boot Camp," which explains how to develop and test hypotheses. Helping design these courses are members of the Curriculum Fellows Program, a unique three-year certificate program that prepares PhD scientists to educate future teachers and administrative leaders in science. These initiatives are flagship efforts of the Longwood Program in Graduate Education, made up of the nine life-sciences graduate programs at HMS, the Harvard School of Public Health (HSPH) and the Harvard School of Dental Medicine (HSDM).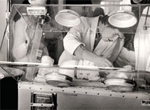 Bioinformatics and Integrated Genomics. This year, HMS Dean for Graduate Education David Golan and Associate Dean for Basic Graduate Studies David Cardozo laid the groundwork for ensuring the successful launch of the Bioinformatics and Integrated Genomics Program (BIG). This interdepartmental graduate program is now accepting applications for admission in fall 2012. Students will be co-admitted into BIG and a "home" PhD program, one of five which include systems biology and, within the Division of Medical Sciences, biological and biomedical sciences, neuroscience, immunology and virology.
Master of Medical Sciences in Global Health Delivery. A new master's degree program in Global Health Delivery was approved in 2011. Upon its launch, expected in the coming year, the program will join existing programs in Bioinformatics, Scholars in Clinical Science and Clinical Investigator Training. With mentored research a major component, participants will study and develop interventions to improve health care delivery in resource-poor settings. Under development are master's programs in bioethics and medical education.
International Partners. HMS and the Swiss university École Polytechnique Fédérale de Lausanne (EPFL), supported by the Bertarelli Foundation, have initiated the collaborative HMS–EPFL Program in Translational Neuro-science and Neuroengineering, a research and education initiative that aims to improve quality of life for people with neurological disabilities. In 2011, research projects began at both sites. Also this year, four EPFL master's students came to HMS for translational studies in neuroscience and neuroengineering, focusing on projects such as the underlying mechanisms of, and treatment for, hearing loss. Collaborative exchange programs in Italy, Dubai and Portugal also continued to thrive.
Harvard Catalyst Postgraduate Education
One goal of Harvard Catalyst | The Harvard Clinical and Translational Science Center, directed by Lee Nadler—dean for clinical and translational research, and the Virginia and D.K. Ludwig Professor of Medicine—is to train physicians and scientists in the fundamentals of clinical and translational research.
Training Young Investigators. In the past two years, 750 MDs and PhDs have gravitated to courses offered by the Harvard Catalyst postgraduate education program, directed by Elliott Antman, associate dean for clinical and translational research and professor of medicine; James Ware serves as associate director and is also HSPH associate dean for clinical and translational science and the Frederick Mosteller Professor of Biostatistics. Postgraduate offerings include a one-week course, "Introduction to Clinical Investigation"; a two-week course, "Intensive Training in Translational Medicine"; and a new 40-week, free course in biostatistics fundamentals.
Expertise in Grant Writing. In 2011, Harvard Catalyst launched the Grant Review and Support Program, GRASP. This Harvard-wide initiative aims to transition junior faculty from NIH-funded K01 or K23 grants to research independence, supported by R01 grants. Led by Professor of Medicine Steven Freedman at Beth Israel Deaconess Medical Center, GRASP links rising scientists to senior advisors with K24 grants. Also offered is "Elements of Grant Writing."
Continuing Medical Education
The Department of Continuing Education provides opportunities for health professionals to maintain skills, increase knowledge and competence, and improve performance. Faculty Dean for Continuing Education Sanjiv Chopra, HMS professor of medicine, stresses "the four Rs": rigor—the highest standards of evidence-based teaching and innovation; reputation—that is, enhancing the School's stature; reach—making instruction accessible and affordable; and research—ensuring that teaching methods help participants acquire knowledge and put it into practice. In fiscal year 2011, more than 76,000 physicians and other health professionals took advantage of more than 715 courses and conferences offered at HMS, affiliated hospitals and six partnering U.S. medical schools. More than 65 courses offered online drew over 41,000 participants from 171 countries. According to an online survey, more than 98 percent would recommend these courses to colleagues.
Our
Mission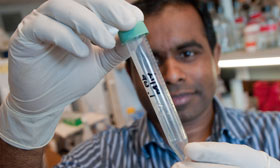 To create and nurture a diverse community
of the best people committed to leadership in alleviating human suffering caused by disease