Research and Discovery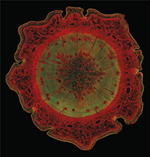 In 2011, thousands of discoveries sprang from the HMS Quad and affiliate laboratories. While all build on accumulated insights, many also represent seismic shifts in thinking.
For example, HMS researchers recently upended long-held assumptions about the structure of the prime protein culprit involved in Parkinson's disease, a discovery likely to redirect efforts to slow or prevent neurodegeneration. Another team elucidated the molecular basis of innate mammalian behavior when they identified an olfactory chemical secreted by predators that triggers rodents' instinctual flight. Also this year came the finding that stem cells in bone marrow can stimulate the heart to regenerate muscle following a heart attack. For more discoveries by HMS faculty, visit our News section.
Our constellation of research institutions includes the Harvard Stem Cell Institute and the Broad Institute of MIT and Harvard, where many HMS faculty hold appointment; also the Wyss Institute for Biologically Inspired Engineering, where, for example, researchers have developed a nano-scale tool that builds complex structures from biomolecules at a rate 10,000 times faster than current methods and holds promise for treating and diagnosing disease.
Robust Federal Support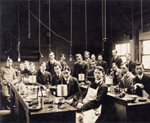 Under the direction of Executive Dean for Research William Chin, the Bertarelli Professor of Translational Medical Science and a leader in pharmaceutical discovery, the School's research enterprise continues to flourish. The federal government is the primary and essential source of research dollars at HMS and its 17 affiliated hospitals and research institutes. Budgets, which continue to face pressure, are concentrated in translational research that moves laboratory findings into medical practice. HMS, where investigators are more successful than most in securing grants, is positioning programs to maximize government sponsorship in this arena while also turning to new non-federal sources.
In fiscal year 2011, HMS, including HSDM, headed by Dean Bruce Donoff, received $313.6 million in sponsored programs, 38 percent of Harvard University's sponsored portfolio. National Institutes of Health grants totaled $266.5 million, with all federal awards reaching $276.3 million. American Recovery and Reinvestment Act (ARRA) funds, at $47.1 million, created 234 new jobs at HMS and collaborating Harvard schools.
Collaborating Across the Quad
July 2011 marked the launch of the new Department of Microbiology and Immunobiology, chaired by John Mekalanos, the Adele Lehman Professor of Microbiology and Molecular Genetics. This group brings together faculty who explore the biology of pathogenic viruses and bacteria (including the lethal strain of the cholera bacterium now devastating Haiti), microbial agents' host organisms, the immune system, and their interactions during infection. A major goal of joining these infectious disease experts, pathologists, geneticists and surrounding clinical affiliate partners is to battle multidrug-resistant TB, HIV/AIDS, and other emerging diseases with antimicrobial drugs and vaccines. Integral to the department is the newly formed Division of Immunology, a unifying entity serving immunologists on the Quad.
5,204: Estimated total postdoctoral fellows at HMS and affiliates
Translational Science and Therapeutics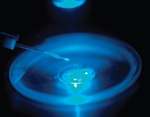 If the promise of personalized medicine is to be fulfilled, academe must play a larger role in therapeutic discovery by providing a deeper understanding of how the normal body works and the root causes of disease. Yet the number of new drugs is declining, even as the pharmaceutical industry struggles to serve the needs of patients who are divided increasingly into smaller, better-defined groups requiring discrete molecularly targeted therapies.
HMS can lead by opening doors to novel ways of tracing diseases to their origins—by identifying new biomarkers and developing new animal models, for example, and by maturing disciplines such as chemical biology and systems pharmacology. Announced this year, the Initiative in Systems Pharmacology, headed by Marc Kirschner, the John Franklin Enders University Professor of Systems Biology and chair of that department, will explore the complex interactions between new candidate drugs and living biological systems.
Federal regulatory agencies too must work with academe and industry to ensure public safety while encouraging innovation. To avoid potential conflicts of interest, HMS is completing the education and implementation phase of its revised Policy on Conflicts of Interest and Commitment, codified to ensure that our research activities meet the highest possible standards of integrity and transparency.
Immunology: Building on Strength
Harvard Immunology enters its second year leveraging the expertise of the University's world-class immunologists. Within that effort, the Harvard Institute of Translational Immunology, HITI, targets immune-mediated diseases. In fiscal year 2011, HITI drew together a community of experts in immune and inflammatory systems, host defense, stem cell biology and tissue engineering. With funding from the Leona M. and Harry B. Helmsley Charitable Trust, HITI awarded more than a dozen competitive grants to teams focused on two autoimmune disease areas: Type 1 diabetes and Crohn's disease. By forming new communities centered around specific diseases, HITI is fostering key collaborations and the sharing of patient samples.
Building Synergies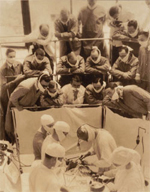 A model vehicle for encouraging collaboration among scientists in disparate fields, Harvard Catalyst continues in year four to advance translational and patient-based studies by fostering interactions among thousands of faculty across HMS, its affiliates and other Harvard schools, linking resources with researchers who have the imagination to ask the right questions.
One of the greatest challenges in clinical research is compiling large groups of patients who meet a certain set of criteria—for example, men over age 60 with stage 3 colon cancer in remission, taking certain medications and showing particular lab results. To compile a pool of de-identified patient data from multiple institutions, Harvard Catalyst developed the Shared Health Research Information Network, or SHRINE, a web-based search tool that enables investigators to search multiple hospital databases of clinical care information at the same time. Led by Isaac Kohane, the Lawrence J. Henderson Professor of Pediatrics, and directed by Douglas MacFadden, director of informatics technology, SHRINE networks are being used nationally. The Harvard network includes five affiliated hospitals.
Investigators in academe and industry are continually developing unique strains of microorganisms, animal models, laboratory equipment, reagents and other specialized resources. These valuable tools often are invisible to researchers elsewhere. To make them widely available for potential sharing, Harvard Catalyst formed the "eagle-i Consortium," a group of nine U.S. universities that created an online database of all types of biomedical research resources searchable by scientists anywhere. Inventory will expand as other institutions join.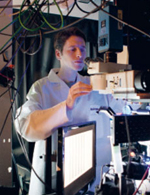 More than 1,100 investigators have enrolled in the Harvard Catalyst Clinical Research Center, which in academic year 2011 encompassed more than 30,000 patient visits at five sites. Directed by Anne Klibanski, associate dean for clinical and translational research and the Laurie Carrol Guthart Professor of Medicine, the program makes available to all clinical investigators services in research nursing, nutrition and protocol development. A single online system streamlines the protocol review process. A centralized laboratory reduces costs, and a microgrant program in 2011 awarded up to $5,000 to 20 junior investigators for tests needed for their studies.
Through the Community Health Innovation and Research Program, known as CHIRP, Harvard Catalyst engages with both the state and community partners. Faculty and students work to translate scientific evidence into effective health policies through research and training activities. With the Massachusetts Department of Public Health, for example, in 2010 CHIRP analyzed the impact of restricting sales of snack foods and soda in schools as well as barriers to such restrictions, and is now evaluating new state regulations on competitive food sales. CHIRP also is helping community health centers become more fully engaged in research and in translating evidence into practice; a community advisory board has been pivotal in providing direction. Several planning grants have been funded with community partners, including grants to improve access to care. For maximum translational impact, a key goal is to increase coordination among all stakeholders—community groups, health care systems and policymakers.
Accelerating Impact
To translate discoveries forged at the research bench into solutions for intractable medical problems, Harvard's Office of Technology Development speeds the development of tools, assays, equipment and therapies in three ways: by protecting intellectual property; by fostering creative alliances with strong industry collaborators through sponsored research agreements and licensing transactions for new inventions; and by providing competitive grants for proof-of-concept studies through the Accelerator Fund. For more information and examples of licensed products, visit otd.harvard.edu.
Our
Mission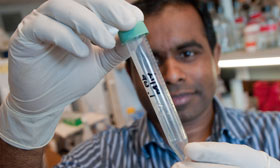 To create and nurture a diverse community
of the best people committed to leadership in alleviating human suffering caused by disease