Linking to Business
Harvard Office of Technology Development: Linking Science and Business to Advance Human Health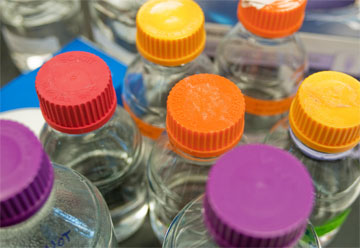 Throughout HMS, our investigators are making translational discoveries at an unprecedented rate, discoveries that are driving the development of next-generation technologies and overall progress in clinical medicine. HMS is determined to hasten the translation of new discoveries forged on the research bench into new solutions for previously intractable medical problems. Harvard's Office of Technology Development (OTD) builds added value around, and speeds the development of such discoveries in three fundamental ways: by protecting intellectual property, by fostering creative alliances with strong industry collaborators through sponsored research agreements and licensing transactions covering new inventions, and through an innovative gap-funding program, known as the Accelerator Fund, that provides competitive grants supporting proof-of-concept studies to advance new inventions from the discovery stage to licensing and commercial development.
Increasingly, the pace of innovation and translation at Harvard is hastened through sponsored research agreements with industrial partners, and through new innovative efforts to position our research results for licensing or additional funding (see Accelerator Fund, below). HMS faculty can benefit from research collaborations with industry and welcomes the intellectual cross-fertilization that can result. Spurred by the opportunity to leverage HMS's research excellence through high-value alliances with strong partners, collaborations with industry can inform both discovery and translation, helping to bridge the gap between lab and clinic. Technology transfer and partnering with industry enhance the ability of HMS to promote the public interest while carrying out its academic and research missions.
The Technology Development Accelerator Fund is an innovative "gap funding" program that awards grants on a competitive basis to support essential proof-of-concept research aimed at progressing new inventions from the discovery stage through to licensing and, ultimately, commercial development. The Accelerator is vital to OTD's strategy of adding value to early-stage research projects, then vaulting them toward a take-off point where they become attractive candidates for industry partnerships.
Now in its fifth year, the Accelerator Fund provides bridge financing to enable validation and feasibility studies—the kind of research necessary for attracting investment by industrial partners. For example, in 2011, a new HMS research program, led by HMS Professor of Cell Biology Junying Yuan was selected for funding by the Accelerator. The program focuses on the development of small-molecule inhibitors, dubbed necrostatins, to target a new mechanism of cell death discovered in the Yuan lab, with the hope of treating multiple disease types, including inflammatory and autoimmune diseases, as well as neurodegenerative conditions.
This year also marks the successful partnering with industry of three recent graduates of the Accelerator program, achieved through Accelerator-supported research and close collaboration between the principal investigators and OTD:
Novel Platform for the Treatment of Autoimmune Diseases. Ulrich von Andrian, the Edward Mallinckrodt Jr. Professor of Immunopathology at HMS, and his colleagues have developed an entirely new technology for the induction of antigen-specific tolerance. Their approach holds promise to treat and cure such autoimmune diseases as multiple sclerosis and Type 1 diabetes. OTD structured and concluded an exclusive agreement with Selecta Biosciences, which will provide for significant investment by Selecta in the development of this technology for clinical and commercial application.
Small-molecule inhibitors of the deubiquitinating enzymes Usp14 and Uch37. In Cell Biology, Professor Dan Finley and Associate Professor Randall King have developed novel technologies for enhancing the activity of a key cellular protein-clearance mechanism, the ubiquitin-proteasome pathway. These technologies may enable the development of new therapeutics for neurodegenerative diseases, such as Alzheimer's, Parkinson's and Huntington's, as well as orphan diseases such as cystic fibrosis and lysosomal storage diseases. OTD has concluded a license agreement that grants rights to these technologies with Proteostasis, a biotechnology company active in the field of protein homeostasis.
Small-molecule inhibitors of autophagy for the treatment of cancer. Autophagy is a process of self-digestion through which cells recycle their intracellular constituents in an attempt to survive exposure to external stresses. Transient inhibition of autophagy has been proposed as a therapeutic strategy to sensitize cancer cells to radiation and chemotherapy. The Accelerator Fund provided support to Professor of Cell Biology Junying Yuan in her efforts to develop a new class of novel potent small-molecule inhibitors of autophagy targeting a broad range of cancer types. This program was partnered with Hoffman La Roche, a large pharmaceutical company. The development of this technology will involve collaboration in research between the Yuan lab and the company.
"The Accelerator Fund is a wonderful invention—it works extremely well. In our case, it allowed us to take a good early-stage project and get to a stage at which the project could be licensed to a strong biotech partner. The program is structured along many lines to provide successful outcomes, but, in my opinion, its strongest asset is effective leadership. A project at this stage, about to move from academics to academic-industry partnership, presents you with a network of fateful decisions. The drug development experience at the heart of the program provides advice that can be hard or impossible to get otherwise for academics, even those that have 'been around the block.'"
—Dan Finley, Professor of Cell Biology, HMS
Finally, 2011 was also notable for the significant expansion of strategic research collaborations between HMS investigators and industry. In an effort to foster and advance promising translational research, OTD nucleates and structures innovative approaches to maximize collaboration and commercialization opportunities emanating from Harvard labs.
As a result, multiple new research alliances, spanning multiple scientific projects in multiple laboratories across campus were brought to conclusion this year. Notable among these are collaborative research agreements with such companies as Hoffman La Roche, Sanofi-aventis, Pfizer, UCB and Boehringer-Ingelheim. Such multi-year, multi-million dollar agreements are designed to fund high-impact, investigator-initiated translational research projects through competitive RFP-based grant programs. As a result of these research alliances, more than twenty new HMS investigators and research projects enjoy funding aimed at enabling discovery and innovation that may give rise to the development of new therapies, thereby impacting the practice of clinical medicine and benefitting patients.
Our
Mission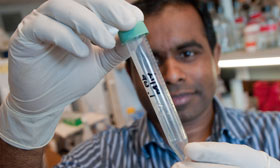 To create and nurture a diverse community
of the best people committed to leadership in alleviating human suffering caused by disease