Leaders and Innovators
An outstanding faculty of nearly 11,900 on the HMS campus and its 17 affiliated institutions must be nurtured and supported as they strive to test ideas through experimentation and pass their knowledge to generations of students. Overseeing this effort is Dean for Academic and Clinical Affairs Nancy Tarbell, the C.C. Wang Professor of Radiation Oncology, herself a physician and champion of faculty development, including mentoring of women, minorities and of junior faculty and the expansion of professional opportunities for faculty at every rank.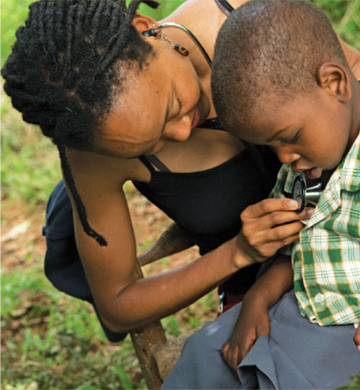 Recruitment and Promotion
At HMS, recruiting and retaining the best faculty are paramount goals. In 2011, under the leadership of Dean for Faculty Affairs Maureen Connelly, HMS made notable strides in faculty recruitment, retention and career advancement.
Expediting Promotions. Among priorities in academic year 2010-2011 was streamlining the faculty promotions process while maintaining rigorous evaluation standards. The new, expedited process consolidates steps formerly taking place at HMS and the hospitals into a single, transparent and more efficient model. The average length of evaluation is now less than one year. Faculty promotions increased 28 percent over the previous year, while promotions to the rank of professor rose by 43 percent. Promotion committees now use a paperless system, and faculty members can monitor the progress of their evaluation on a secure website. Encouraged to think beyond traditional definitions as to what constitutes top scholarship, faculty may submit, in addition to peer-reviewed publications, materials such as course syllabi, nationally adopted guidelines for patient care, and novel methods or technologies that have had major, demonstrable impact.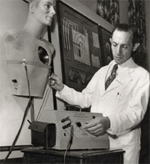 Commitment to Diversity. In 2011, the number of women professors at HMS increased to 150; 16 percent of the senior faculty are now female. Minority faculty now constitute 5 percent of all faculty and nearly 5 percent of promotions at every rank including that of professor. The second and third African American women ever appointed HMS professors were promoted in this academic year.
Searches, Recruits, Orientation. To expedite searches for senior faculty, HMS and its affiliates now fluidly share information among the Dean's Office, department leaders and governing boards. In 2011, the faculties of Medicine and Arts and Sciences welcomed to Global Health and Social Medicine David Jones '01, the first A. Bernard Ackerman Professor of the Culture of Medicine and an expert on the history of health inequities. The School's recruitment efforts also have successfully attracted several outstanding junior faculty, with invitations accepted by scholars at the top of their fields to join the departments of Genetics, Health Care Policy and Neurobiology. Common review standards are being fine-tuned for appointing junior faculty, who are welcomed to HMS through orientation events at which they hear from Dean Jeffrey S. Flier, senior administrators and panels of senior faculty, and discover an array of career resources.
Fostering Diversity Inclusion
Poor health outcomes for African Americans, Hispanic Americans, American Indians and Alaska Natives, Asian Americans, Native Hawaiians and Pacific Islanders are apparent when their health indicators are compared with the rest of the U.S. population. These populations experience higher rates of illness and death related to health conditions such as heart disease, stroke, specific cancers, diabetes, HIV/AIDS, asthma, hepatitis B and obesity. To elevate the quality of care available to minority, disadvantaged and underserved populations, the HMS Office for Diversity Inclusion and Community Partnership (DCP), headed by Dean Joan Reede, associate professor of medicine, engages in a range of minority health fellowship programs that provide advanced training to physicians.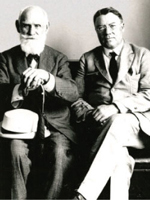 Between 1996 and 2012, nearly 100 participants have achieved professional success: currently 53 percent hold positions at academic institutions; 25 percent work the public sector; and 22 percent hold private-sector posts. Collectively they advance health policy, public health, and minority health research and health care delivery. More than 86 percent serve on national, state and local committees and advisory boards; 64 percent have published scholarly works; and 71 percent have held academic appointments at schools of public health and medicine. Fifteen alumni are now at HMS as associate or assistant professors or instructors.
The Commonwealth Fund Harvard University Fellowship in Minority Health Policy (CFHUF). Celebrating its 15th year in 2011, this degree-granting fellowship, supported by the Commonwealth Fund, prepares physicians to expand access to high-quality care for minority and other vulnerable populations. The yearlong opportunity comes under the direction of DCP's Minority Faculty Development Program at HMS in collaboration with HSPH and the Harvard Kennedy School. Among many distinguished alumni is Roderick King, a 1998 fellow, now an instructor in social medicine at HMS and senior faculty member at the Disparities Solutions Center at Massachusetts General Hospital, who as a 2011-2012 Fulbright NEXUS Scholar is guiding a project aimed at developing leaders to improve the health of Caribbean populations.
Joseph L. Henry Oral Health Fellowship in Minority Health Policy. Marking its sixth year at HMS, this degree-granting program, supported by the Dental Service of Massachusetts/Delta Dental Plan, is named for a revered professor emeritus at HSDM who died in 2011. The program cultivates leaders in minority oral health determined to enlarge the health system's capacity to address special needs of minority and disadvantaged populations. Brian Swann, a 2008 fellow, is currently the chief of dental services at Cambridge Health Alliance and clinical instructor in oral health policy and epidemiology at HSDM.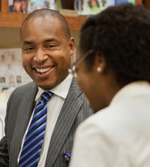 Center of Excellence in Minority Health and Health Disparities. Building on existing educational programs at HMS, this virtual center works to enhance the academic performance of underrepresented minority students, who make up 19 percent of the 2011 entering class. Cultural competence training for faculty, residents and students is a theme, as is faculty development and research focusing on health disparities such as postpartum depression-associated child health outcomes, with a focus specifically on sociodemographic and stressor variables across women by race and ethnicity and a study of the spread of medical mistrust and inaccurate health information in the social networks of African Americans with HIV.
Harvard Catalyst Faculty Fellowship. This two-year, non-degree fellowship frees junior faculty from clinical and teaching demands at a key point in their careers, allowing them to conduct translational research. Appointed to this fellowship in 2010 is neonatologist Camilia Martin, assistant professor of pediatrics at Beth Israel Deaconess Medical Center. Martin was featured in an article in the Oct. 24, 2011, issue of The New Yorker, "A Child in Time: New Frontiers in Treating Premature Babies," that describes how physicians now save many infants born in a perilous state.
Office for Diversity Inclusion and Community Partnership Faculty Fellowship. This two-year, non-degree fellowship, sponsored in partnership with HMS-affiliated hospitals and the Provost's Office at Harvard, enables HMS junior faculty to pursue activities that promote their professional development. Francisco Quintana, assistant professor of neurology at Brigham and Women's Hospital, who is completing his second fellowship year, has identified a potential therapeutic target for the modulation of the immune response in human autoimmune disease through a recently awarded R01 grant from the National Institute of Allergy and Infectious Diseases.
Our
Mission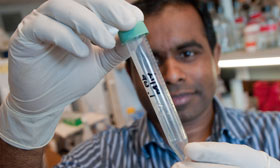 To create and nurture a diverse community
of the best people committed to leadership in alleviating human suffering caused by disease