Awards and Honors
Two HMS Faculty Named University Professors
The Harvard University Professorship, established in 1935, recognizes individuals working on the frontiers of knowledge in ways that span traditional boundaries between academic disciplines. This past year, two HMS faculty members received this distinction, joining Marc Kirschner, the John Franklin Enders University Professor of Systems Biology and chair of that department, in holding this highest faculty honor, of which there are only 25.
Paul Farmer, chair of the HMS Department of Global Health and Social Medicine and co-founder of Partners In Health, is the first Kolokotrones University Professor. Farmer, a physician-anthropologist, has revolutionized community-based strategies for treating infectious diseases in developing countries, champions health as a human right, and studies the role of social inequalities in determining disease distribution and outcomes.
Douglas Melton, co-chair of Stem Cell and Regenerative Biology (SCRB), a department administered by HMS and the Faculty of Arts and Sciences (FAS), is the Xander University Professor. Melton, also the Thomas Dudley Cabot Professor of the Natural Sciences, has been a driving force behind Harvard's ascendancy in stem cell research and co-chairs the Harvard Stem Cell Institute.
Gary Ruvkun Receives 2011 Dan David Prize
This international $1 million award, endowed by the Dan David Foundation at Tel Aviv University, was awarded to Gary Ruvkun, HMS professor of genetics in the Department of Molecular Biology at Massachusetts General Hospital. The prize recognizes innovative research that cuts across traditional paradigms. Having worked to define the genetic basis of aging, Ruvkun has discovered in animal models a set of hormonal signals and pathways that regulate aging and lifespan.
Matthew Nock Named MacArthur Fellow
Matthew Nock, a professor of psychology at FAS who studies suicide and self-injury in adolescents and adults, received a $500,000 "genius" grant from the John D. and Catherine T. MacArthur Foundation. In a study supported by Harvard Catalyst, Nock collaborated with the Mass General inpatient psychiatric unit. By combining epidemiology, lab experiments, mental health associations and biological and psychological assessments, he is making breakthroughs in predicting and preventing suicide.
Alpert Prize Honors Bioengineering Luminaries
Created to reward scientists whose discoveries have made great progress in new therapies for a wide range of diseases, in 2011 the Warren Alpert Prize was awarded to a basic scientist and a clinician, both pioneers in bioengineering. HMS Dean Jeffrey S. Flier chairs the Alpert Foundation's scientific advisory committee, which selects recipients of this prestigious award.
Robert Langer, senior lecturer on surgery at HMS and the David H. Koch Institute Professor at MIT, is known for advancing drug delivery and tissue engineering. He has developed polymers to deliver drugs at controlled rates and has engineered blood vessels and vascularized skeletal muscle tissue. The world's most cited engineer, Langer holds more than 800 granted or pending patents.
Alain Carpentier, head of the Department of Cardiovascular Surgery at the Hôpital Européen Georges-Pompidou in Paris, is recognized for developing and implanting the first successful artificial bronchus, saving the lung of a patient with cancer. He also developed the first artificial valve for patients using animal tissues processed to prevent immunological reaction and is a lead developer of a fully implantable artificial heart soon to enter clinical trials.
Rolf Luft Award to Jeffrey Flier
The 2011 Rolf Luft Award was awarded to HMS Dean Jeffrey S. Flier by the Karolinska Institute for his seminal contributions to understanding the physiology of insulin and leptin, and the mechanisms underlying defective actions of these hormones in metabolic diseases.
11,860: Total faculty on the HMS campus and affiliates
Eight Named to Institute of Medicine
In recognition of exceptional scientific achievement and commitment to service, eight faculty members were among 65 named in 2011 to the Institute of Medicine, the health arm of the National Academy of Sciences.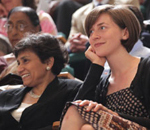 Margarita Alegria, HMS professor of psychology in the Department of Psychiatry, directs the Center for Multicultural Mental Health Research at Cambridge Health Alliance. An expert on disparities in mental health and substance abuse services for minority populations and leader of the National Latino and Asian American Study, she aims to improve service access, equity and quality for disadvantaged populations.
Frederick Alt is HMS professor of genetics and the Charles A. Janeway Professor of Pediatrics at Children's Hospital Boston. He is also president of the Immune Disease Institute and director of its Program in Cellular and Molecular Medicine. The Alt lab is elucidating mechanisms that maintain genomic stability in mammalian cells, specifically B and T lymphocytes.
George Daley, HMS professor of biological chemistry, molecular pharmacology and pediatrics, is the Samuel E. Lux IV Professor of Hematology/Oncology at Children's. Daley, a pioneer in stem cell research, is known for his work in chronic myeloid leukemia, caused by genetically defective stem cells, and in somatic cell reprogramming to model human disease. He aims to translate insights in stem cell biology into cellular therapies for degenerative, malignant and genetic diseases.
Atul Gawande, associate professor of surgery at Brigham and Women's and of health policy and management at HSPH, is devising clinical-system innovations to improve patient outcomes, such as the World Health Organization Safe Surgery Checklist. He is developing a safe-childbirth checklist and studying low-cost pulse oximetry in developing countries. He also directs the Risk Management Foundation/Harvard Surgical Chiefs Patient Safety Collaborative.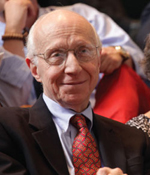 Sharon Inouye, HMS professor of medicine, is a member of the Division of Gerontology at Beth Israel Deaconess Medical Center and director of the Aging Brain Center in the Institute for Aging Research at Hebrew SeniorLife. Her studies of delirium in the elderly have influenced hospital care worldwide. She leads the Successful Aging after Elective Surgery (SAGES) study.
Jay Loeffler, the Herman and Joan Suit Professor of Radiation Oncology, is chief of the Department of Radiation Oncology at Mass General. Specializing in neuro-oncology, Loeffler has devoted his career to pioneering radiation delivery techniques, including improvements in stereotactic radiosurgery and proton therapy, to target and destroy primary and secondary malignant brain tumors as well as a wide variety of benign tumors.
JoAnn Manson, the Michael and Lee Bell Professor of Women's Health at HMS, professor of epidemiology at HSPH, and chief of preventive medicine at Brigham and Women's, leads high-impact randomized clinical trials and translational research on the prevention of cardiovascular disease, diabetes and cancer in women, including the Women's Health Initiative, Nurses' Health Study, the Women's Folic Acid Study, and the new VITamin D and OmegA-3 TriaL (VITAL).
James Thrall, the Juan M. Taveras Professor of Radiology and head of the Department of Radiology at Mass General, is an expert in nuclear medicine and nuclear radiology, with clinical interests in nuclear cardiology, positron emission tomography scanning and skeletal scintigraphy. He oversees the Massachusetts General Hospital Imaging Center.
For a more comprehensive but by no means exhaustive list of faculty honors and awards, visit our News section.
Our
Mission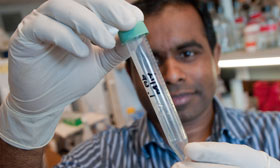 To create and nurture a diverse community
of the best people committed to leadership in alleviating human suffering caused by disease