Class of 1964
Class of 1964: 50th Reunion

---
REGISTER TODAY!
Take advantage of the early registration discount now through April 18. There are two easy ways to register:
1. Online, by credit card:
Click here to access your secure class registration site. You will need your Alumni.Harvard User ID and Password to login.
2. Mail, by check:
Click here to print out your class registration form and return it with a check to the address indicated.
If you need a registration form mailed to you, please call Chelsea Keating in the Office of Alumni Relations at 617-384-8520.
Congratulations to the Class of 1964 for winning the Reunion Report Challenge! Your class had the highest percent participation and has earned a $20 discount on your registration fee.
---
Other updates
Your Reunion is
May 29–30
Mark your calendar now and make plans to come back to reconnect with classmates and rediscover HMS/HSDM.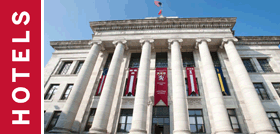 To provide you with the best Reunion experience the Alumni Relations Office reserved rooms at special rates at premiere Boston venues.
Committee
Carolyn Aldredge, MD
David Chapin, MD
Boyd Eaton, MD
Steve Hulley, MD
Joe Hurd, MD
Jay Jackman, MD
A.W. Karchmer, MD
Bob Lawrence, MD
Bob McCarley, MD
Georges Peter, MD
Joel Rubenstein, MD
Steve Schroeder, MD
Peter Steinglass, MD
Tom Vernon, MD
Lowell Young, MD
Alumni celebrating their 50th Reunion or higher can recieve Reunion credit for making a bequest.